SIMPLE SERENDIPITY-SOUL FLAME WORKBOOK IS A SIMPLE TO READ ADULT INTERACTIVE WORKBOOK THAT WILL TAKE YOU ON A THOUGHT PROVOKING SPIRITUAL JOURNEY TO REVEALING YOUR INNER TRUTH AND DISCOVERING YOUR SOUL FLAME.
This workbook is a collection of thought-provoking activities that will assist you in viewing the world through enlightened eyes, discovering your inner truth and feeding your soul flame with the passion and actions that support your higher self and soul purpose.
The concepts throughout the workbook are simple to read and understand and are designed to provide only enough information to produce meaning, stimulate thought and invite insight.
The workbook is designed to encourage you to seek out other truths and and information that are part of the discovery and unfolding of your own individual journey.
Practice manifesting through meditating in the Divine Soul-Mind Exercise.  You will discover how to attract your desires through the creation process utilizing the unversal law of attraction. Your simple discoveries will guide you to realize your higher self insights andsoul purpose.
Life is a journey…
Your perception of this journey and the world around you lies solely
within you. I believe that every one of us has a soul flame. It's the flame that burns
deep within us; it's the light of our soul. The strength of the flame is determined by our
life purpose in the world and the passion in which we pursue that purpose. It shines
brightly with self fulfillment of your contributions and it alerts you when changes need to
be made in your life that will open the doors for personal growth, new insights and new
possibilities.
………………………………………………………………………………………………
Simple Serendipity is a personal spiritual workbook that will awaken you to new
perceptions of how you view the world around you, and enlighten you to your fulfillment
of purpose in this lifetime.
 You will begin to notice the simple signs and serendipitous events around you that support and affirm your life journey or those that invite changes for a new
direction.
You will be inspired to make small changes in your life that will create
environments that foster love and creativity.
You will realize greater self-worth when you discover connectedness to all and
the importance of community.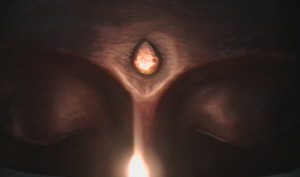 You may realize a higher-soul purpose for your existence in this world, and the courage to change the course of your life journey, as you know it to be.
Sample Chapter from Simple Serendipity-Soul Flame
p. 43  PERCEPTION
Our perception is how we see, feel and understand the world around us.
We use our senses to help us and we use past experiences as references.
     The problem with referring to the past is that the past in present day reality does not
exist. All that truly exists in reality is what is happening right at the very moment, right
now. We do store memories of the past, but memories in reality don't exist. Memories
and past experiences are not tangible; they don't physically exist in the here and now.
Most of what we experience in our everyday lives are stories that we make up about
what is happening, based on our experiences from the past. But, what if we could
change the stories around an event or happening? What if we could remove an old
story, that doesn't exist anyway, and allow ourselves the freedom to create a new one?
If we could change how we see and feel about something, couldn't we, in essence,
create a new reality for ourselves?
For example, what if when you were younger you had a water accident where you
fell off a raft and someone had to jump into the water to rescue you. As a result, you
may have gone through your life seeing bodies of water as something you must avoid,
because you are fearful of them and believed them to be dangerous. But, what if you
could simplify the event to; "I once fell off a raft into water and someone jumped in the
water and helped me." People fall out of things all of the time. It was an accident and
someone was nice enough to help me out. Water is fun to float on, swim in, and it is
refreshing to be in on a hot day. "I'm not afraid of water; water is peaceful and calming."
     You can change your perception about anything in life, including yourself! And you
can do it right now! You don't have to wait for tomorrow or someone else's approval. If
you had a previous experience where you "didn't feel good enough" or "loved enough",
you may be hiding behind that belief as an adult and there are things in life that you do
to "be good enough" or to "be loved enough". Or, you could be doing the opposite and
finding yourself in situations that prove yourself to be right about what you learned to
believe about yourself. More than likely, you're not consciously aware that you're doing
this. The truth is however, that it is all made up stories, and stories that you hold onto
based on an earlier experience. The stories however, don't exist, because the past
doesn't exist in reality. There are only memories of experiences, but memories aren't
tangible; so they don't exist in reality. So, again, you can change your perception about
yourself right at this very moment. All you have to do is to speak who you desire to be
out into the world, "be" your word, and the universe and the world will reflect it back to
you.
Try this out: strike up a conversation with people in your life; you actually do this
every day, quite naturally. Ask them how they feel about the weather. Ask them how
they feel about death. Ask them to tell you where they wouldn't vacation and why? Ask
them how their day is going, how they're feeling about it and why?
You could ask ten different people and you would find that everyone has a slightly
different response. Why? Because we all have various perceptions of the world around
us based on what we have experienced from the past. Which ones are correct? To each
individual, they all are.
     Begin to consider all things in your life, and try to discover a different way of
perceiving them. If past experiences do not exist and if you are willing to look at every
situation as if it is happening for the first time, there's no telling what the outcome of
your new experiences will be. Try to interact with people and things with a changed and
more positive perspective, and you will be pleasantly surprised at the results.
    So, it comes down to this. Are you more of a negative, skeptical person or are you
more of a positive optimist? If you desire to live a more peaceful happier life, which of
the former two characteristics would you have to choose? And here's the really tough
question. Can you find the positive in every experience? The truth is that there is always
something positive out of every experience, if you find the correct angle to perceive the
situation from. Every experience fosters opportunity for growth. I know that it may be
difficult to see at times, but even in the direst of circumstances, there is always
something learned. Learning is a positive outcome, because it is part of the creative
process. What if you personally can't see it? Then your soul needed to experience it in
this lifetime, for its spiritual growth, as painful as that it may be.
IF IT'S POSSIBLE TO CHANGE OUR PERCEPTION OF WHAT WE
SEE AND FEEL,
ISN'T IT POSSIBLE TO CHANGE THE REALITY OF WHAT WE SEE AND FEEL?
THE POSSIBILITIES ARE LIMITLESS!
What are the realities in your life that you desire to change?
____________________________________________________________
____________________________________________________________
____________________________________________________________
Who do you want to create yourself to be for this world right now?
____________________________________________________________
____________________________________________________________
____________________________________________________________
Who is the person you want others to meet the next time you sit down
on that empty bench?
____________________________________________________________
____________________________________________________________
____________________________________________________________